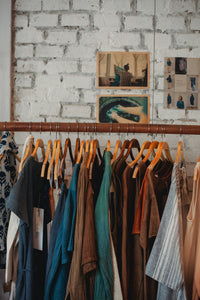 5 Benefits of Vintage Clothing

Hi there. You may have heard others talking about vintage clothing and that got you interested in the topic. Or you are already a proud owner of a couple of vintage pieces and would like to know more about the benefits of shopping pre-loved items of clothing.
In case you already are a vintage clothing enthusiast, then please drop us a line to let us know if you agree with our list or if you think we missed something important. We'll be more than happy to add it.

Regardless of what category you fit in, we thank you for being here and for reading this. Now let's go directly to listing why you should buy vintage clothing.
Vintage clothes have great quality
'They don't make them like they used to.' We're pretty sure you heard that at least once before and know what? – when it comes to vintage clothes it's true in most of the cases. Back in the day, the percentage of clothes made by hand was much higher than nowadays. Plus, the materials were of much higher quality themsleves: 100% cotton denim pieces, real leather, virgin wool and the list can go on.
Vintage clothes are unique
By that, of course, we mean that it's highly unlikely you'll see the same vintage piece on somebody else – and if you do, that means you've met another lover of rare vintage clothes. Which is great! Seriously now, even in the 90s they made batches of the same item of clothing 10% the size of what the fast fashion industry is making today. So an item of vintage clothing is much rarer than an item made today by a fast-fashion brand.
Vintage clothes save the Earth
Today's fashion industry is one of the biggest polluters in the world and the clothes they produce – most of them of a low quality – have a short life so will end up likely in a landfill polluting again. When you buy vintage clothes, not only do you get a cool piece of clothing that will be with you for years, but you also contribute to Earth's wellbeing by helping reduce the carbon footprint.
Vintage clothes are cost-effective
You may disagree with at first, but bear with us a bit more. For the sake of comparing apples with apples, we are putting against each other items of comparable quality and craftsmanship. Take a hand-made pair of branded Japanese denim trousers. If you were to purchase that brand new today, you would have to pay a hefty price of at least EUR 450. On our website, you can get a vintage pair from the same brand for a fraction of that amount – around 100 EUR. That may sound like a lot, but reality is you'll end up with a pair of jeans that lasts for years and years.
If we take the comparison further and, instead of choosing a new pair of the same quality and from the same reputable brand, we pick jeans from a fast-fashion brand – you end up paying half of what you'd pay for our pair but get a much lower quality item with a shorter product life.
Vintage clothes tell stories
That's a fact. Pick Germany's 1990 World Cup shirt. Worn by football legends such Brehme, Matthaus or Voeller against football legends like Maradona, Lineker or Gascoigne. Or take Jordan's 1996-97 Bulls jersey – synonymous with the Flu Game, Chicago's 5th NBA title, and basketball history all in all. Just two examples that vintage clothes can be both show-stoppers and conversation-starters. Win-win.
---