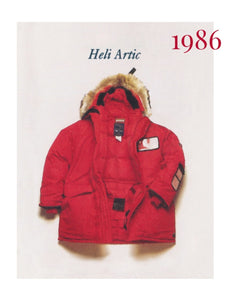 Vintage Feats by retroiscooler
feat – an extraordinary act or achievement, usually displaying boldness and skill.
Passionate about vintage clothes, we are inspired by how they look and the stories they tell. Just imagine the combinations that can come out from putting together a few of these clothes – and the stories. And if your imagination is in holiday mode or your fingers don't want to do the legwork and Google this stuff up – we're more than happy to help.
That being said, welcome to episode one of Vintage Feats by retroiscooler: a series of stories full of – well –stories. For today, we've paired up four iconic pieces that, we think, go great together even if they come from different worlds. Here they are.
1986 Canada Goose x Museum Heli Arctic Coat
In 1957s Toronto, Sam Tick, a Polish immigrant, founds Metro Sportswear, a company that makes woolen vests, raincoats and jackets. In the 70s, the same company would become the inventor and producer of Canada Goose – the world-famous winter clothing brand. But this jacket pictured here is no normal Canada Goose.
This one's special.
It's 1986 and a group of Italian friends went backpacking in Canada. There, they discover Tick's ultra-resistant coats that no one in Europe has ever seen and return to Italy with a bold idea: to import the Canadian outwear and sell it to Europeans under a new name.
Behold the first child of that marriage between Canada Goose and the new Italian brand called Museum. This is the 1986 Canada Goose x Museum Heli Arctic Coat.
1999 Big E Levi's 501XX Jeans Made in USA
Levi's. They've been around for a while. 168 years, to be more precise. A truly riveting story (pun intended) born in San Fransisco that has now taken over the entire world. And the 501 model is by far the most known Levi's product. And yet again – this pair here has quite a story.
During the second world war, materials – and metal in particular – were pretty scarce, so Levi's started using generic buttons that no longer mentioned the company's name or initials.These buttons had a laurel leaf design that stood for peace, unity, and goodwill.
Also in that period, the V-shaped stitching design – also called arcuate – was painted onto the back pockets of men's 501 jeans instead of being stitched, to save thread for the war effort.
This pair of 1999 Big E Levi's 501XX Jeans Made in USA sports both these features above-described, making it an on-the-button reproduction of a pair of 501s from the early 1940s.
2007 Green Nike SB Dunk High Dr. Feelgood
Drawing inspiration from the cover artwork of a Motley Crue album entitled Dr. Feelgood, this here is no ordinary pair of Nike Dunks. The upper is covered in a leather that replicates an aligator's skin and green suede overlays in suede, with red accents throughout. Plus, the off-white midsole adds to the whole vintage feel of this pair of 2007 green Nike dunk high Dr. Feelgood. 
With the resurgence of Nike Dunks in recent years, there's no better time to rock these bad boys as they still have a lot of life left in them. Or, as Nike would say – just do it.
1990 Blue Italy Diadora Football Socks
Looking back at it, Coppa del Mondo seems like this magical happening where legend met reality under the blue Italian sky. Italy hosted the 1990 World Cup and they did such a great job that most of football collections began there and then.
This pair of wool and cotton player-issued socks may seem like a far cry from a vintage football shirt – but we beg to differ. These high socks completed one of the most iconic looks in football history, Italy's 1990s kits being as legendary as the tournament they organized over three decades ago.
And these 1990 blue Italy Diadora football socks also complete the look of our first episode of Vintage Feats by retroiscooler. We really hope you like our pairing of vintage clothes and their extraordinary stories.
Happy shopping.
Photo and information courtesy of museumtheoriginal.com, levis.com and goat.com
---