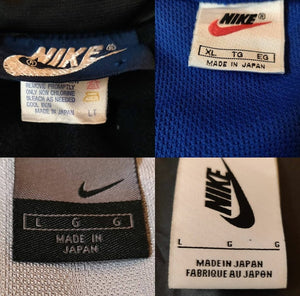 Vintage Feats by retrosicooler – Episode 6
feat – an extraordinary act or achievement, usually displaying boldness and skill.
Happy New Year! We wish you in 2022 to have the world at your feet, kindness in your heart, and vintage clothes on your mind. And thanking you for your support, custom, and readership in 2021, we hope you'll be part of our journey and community this year as well. Now let's get back to our stories. This episode is both conservative and revolutionary – like all of out items on retroiscooler.com – featuring four items like any other previous session, but only two categories. And even those two sit under the same overarching theme: the relationship between an American giant and Japan.
Nike has been linked to Japan and its culture from its very beginning almost 50 years ago. We spoke about that briefly here. Today we'll focus on the company's attempt to make the best products possible. Phil Knight, Nike's founder and chairman wrote his university thesis challenging the whole German-made sports footwear and apparel establishment in the 60s. In his paper, he spoke about how Japanese-made items had a much better price-quality ratio than the ones made in Germany. And to make his point heard, after launching Nike, he moved part of Nike's production in Japan.  
These two items here are living witnesses of those days and of the fact that Knight was right in his thesis. The aura of quality associated with items made in Japan transpires in their details, from metalware, to stitching and snap buttons used. And of course, those size tags bearing the so-very-rare made in Japan marking make up for any and every small defect caused by the passage of time. Because, even if Nike still produces things in Japan – as we'll see shortly – those items are almost as rare as they come and the hunt for them is real.
Nike has partnered with many famous names around the world. However, when it comes to Japan, perhaps the American's brand most long-standing collaboration has been with Japanese fashion house Comme des Garcons. Started back in 1999, the relationship between the two brands has bridged the gap between sportswear and haute couture, sharing the same passion for visionary design, innovation, and uniqueness.
Rei Kawakubo – the founder of the Comme des Garcons brand – has pushed design boundaries to new landmarks, taking iconic Nike models like the Blazers we have on sale on our website, and reimagined them. Adding style, top material quality, and the brands signature on staple names in Nike's catalogue, Rei has managed to create a cult following and an unmatchable heritage. And she has also convinced Nike to bring back to Japan the production of the very limited editions of their collaboration. This bomber jacket is proof of that.
---